Detalles
Now With Basic Cast Control and Float Fishing
Euro Fishing immerses you deep into the adrenaline-packed action, fun and beauty of Europe's most famous lakes. Master your rod, line and tactics, and refine your technique to become a top angler. This is the closest you can get to real fishing from the comfort of your own sofa. Welcome to the Great Indoors!
Whether you're a fishing beginner or angling pro, Euro Fishing accurately and authentically replicates the feeling of actual fishing using our unique physics-based casting and reeling system, 'Total Cast Control'.
Start by learning the basics of casting with in-game tutorials, or dive straight into one of the five unique European locations included, such as Digger Lakes and the famous St John's Lake at Linear Fisheries, each posing their own unique challenge to land the big catch.
Using advanced AI and customisable environment effects, fish respond to water temperature, time of day, weather conditions and baits as they do in real life. Spot fish 'shows' before casting into the right area from a pre-set peg or the lake bank, and customise your angling equipment for the best chance of landing a catch.
In Euro Fishing, you can fish by yourself, or compete against friends and opponents in single player or hosted multiplayer tournaments, tracking and comparing catches in real time.
Euro Fishing – Cast, Catch, Compete!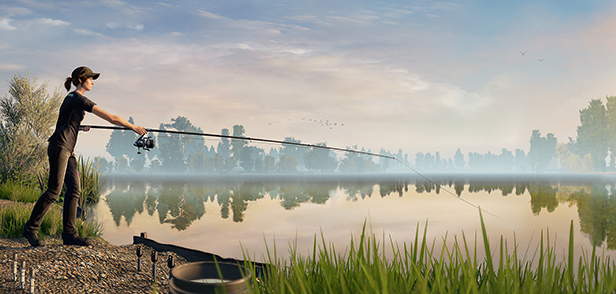 Funcionalidades
Intelligent Fish AI
The battle of wits between fish and angler come to life with intelligent AI
Competition and Tournaments
Challenge your friends in a multiplayer tournament and compare catches in real time, or compete against AI in our hosted tournaments
Stunning Locations
Five unique European venues await every fisherman, including real venues such as the famous St Johns Lake at Linear Fisheries and Digger Lakes, all recreated in magnificent detail
Dynamic Weather and Time of Day
Set weather conditions to reflect real world settings or create your own preferences to affect how fish behave
Tackle Box
Select the right angling equipment for the best chance of landing the big catch; choose from a wide range of rods, reels, rigs and bait in thousands of possible combinations
Watercraft
Read the water and its features, predict what the fish are going to be doing and cast from the bank or a peg for the best chance of a catch
Cutting Edge Technology
Using the latest Unreal Engine 4 graphics technology, Dovetail Games Euro Fishing looks and feels as close to the real thing
Created by Experts
Working with carp angling experts, including Korda and Simon Scott, Dovetail Games Euro Fishing replicates the experience of real fishing
Requisitos del

sistema MINIMUM:
OS: Windows® 7 64bit / 8 64bit
Processor: Quad-Core 2.4 Ghz

Memory: 4 GB RAM
Graphics: Graphics Card with 1 GB Video RAM: Nvidia Geforce GTX 460 or equivalent

DirectX: Version 11
Network: Broadband Internet connection

Storage: 2 GB available space
Additional Notes: External mouse or compatible Xbox controller required
© 2015 Dovetail Games, a trading name of RailSimulator.com Limited ("DTG"). All rights reserved. "Dovetail Games" is a registered trademark of Dovetail Games Limited. Unreal® Engine, copyright 1998-2015, Epic Games, Inc. All rights reserved. Unreal® is a registered trademark of Epic Games. Portions of this software utilise SpeedTree® technology (©2014 Interactive Data Visualization, Inc.) SpeedTree® is a registered trademark of Interactive Data Visualization, Inc. All rights reserved. Used under license from Korda Developments Limited. All rights reserved. Used under license from Linear Fisheries (Oxford) Limited. All rights reserved. All other copyrights or trademarks are the property of their respective owners. Unauthorised copying, adaptation, rental, re-sale, arcade use, charging for use, broadcast, cable transmission, public performance, distribution or extraction of the product or any trademark or copyright work that forms part of this product is prohibited. Developed and published by DTG.